The Space
Set just off the main plaza, Sobremesa welcomes with a warm and creatively cluttered space that at once maintains Antigua's Old World charm and exudes a sense of modernity. Music that matches the decor's soft hues floats through the main dining areas, bounded by artfully weathered walls with patches of exposed brick and mortar. In the forward dining spaces, dotted with potted plants and flower arrangements, you can settle into cushioned high-backed chairs or comfortable bench seating at intimate wooden tables. Brightly colored throw pillows of indigenous design complete the interior's tableau. A rear patio area is a breezy space with cafe tables surrounded by greenery.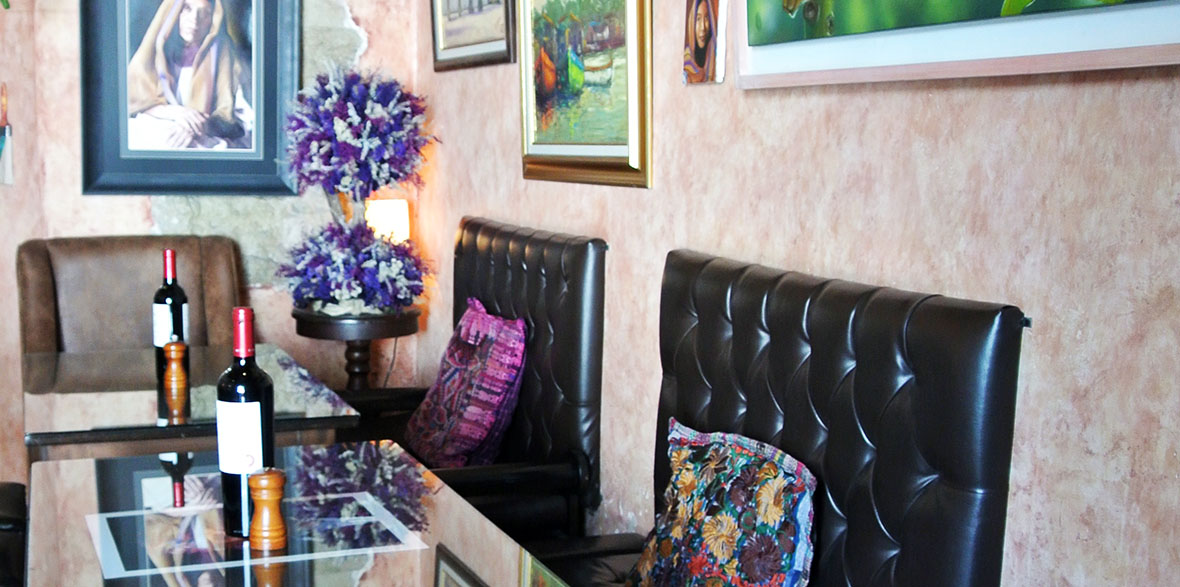 The Force Behind the Food
Owner and chef Alexander Ferrar has plastered the place with his other pursuits. Ferrar's original paintings line the walls, and are on display at glass-topped tables – you're likely to see him with brush in hand when not giving personal attention to diners. A collection of Ferrar's novels are available for sale by the front door.
The Menu
The eclectic menu defies strict definition, a mix of European and Latin culinary styles with a dash of Caribbean influence. The eatery is widely regarded for their imaginative sauces, which mix and match flavors like guava, banana, blackberry, grated ginger, and cardamom. For starters, there's Insalata Caprese with mozzarella, slow-roasted tomatoes, balsamic reduction - and a scoop of basil ice cream. The house Ratatouille has roasted bell peppers, zucchini, eggplant, mushrooms, and a pomodoro sauce.
Sobremesa makes over a half dozen pizzas, ranging from offerings like traditional pepperoni and Margherita to inventive concoctions like the Califano - with pesto, pine nuts, balsamic onions, and eggplant - and the Sobremesa - with caramelized onions, garlic mushrooms, and prosciutto. Sandwiches, pasta, and seafood dishes continue the innovative mash-up of flavors. The Croque Jean Poulet sandwich takes chicken and adds Gruyere and mozzarella cheese in a sherry-cream sauce with dijon. Linguine is served with diced chorizo and cream of chipolte. An octopus salad is prepared with fennel, arugula, and walnuts in an orange vinaigrette.
Main courses include beef tenderloin favorites like Unicorn Steak, in semi-sweet wine reduction with dijon seeds, and a choice cut that's stuffed with spinach and mozzarella in a creamy peppercorn sauce. Online reviews rave about Ginger Guava, chicken in a sauce of rum, guava and ginger. The wine list favors vintages from Argentina and Chile. For dessert, beyond offerings like pumpkin cheesecake and Basil Panna Cotta, Sobremesa specializes in exotic ice cream. Dozens of homemade flavors include unique treats like Coffee Rum Walnut, Apple Chipotle, Pineapple Carrot, and Jasmine Blackberry.